Natural8 Casino Review: Online Poker, Registration and Bonuses
Natural8 is the Asian flagship of GGNetwork, the largest poker network in the world. Despite its youth, the room has proven its high level of reliability many times over and has managed to create a safe environment for all groups of players.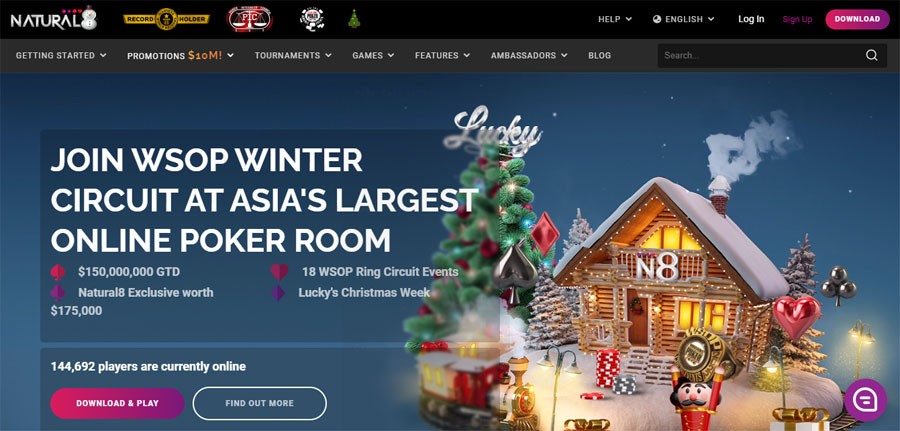 Players of the most popular formats (NLH, PLO4, PLO5, 6+, AoF, Spins) can not only find here 24-hour games at various limits, but also get additional welfares by participating in special promotions for each type of poker.
In the Natural8 tournament grid, you can find hundreds of events every day with buy-ins ranging from $1 to several thousand dollars. Various series with guarantees in the tens of millions are added every month.
In this review, we've compiled data to help answer all your questions, including:
Is it legal to gamble at Natural8?
What is the attitude towards regulars in the room?
What should players expect from the Fish Buffet loyalty scheme and other promotions?
Natural 8: Bonuses and Promotions
The Natural8 bonus system is designed primarily to please poker enthusiasts, not regulars. In addition to network promotions such as: daily races for different types of poker over seven million dollars a month, welcome pack, multi-level VIP – Fish Buffet, GGCare Flipout $30,000 freerolls, jackpots, N8 also offers its exclusive bonuses, not available from other GGNetwork skins.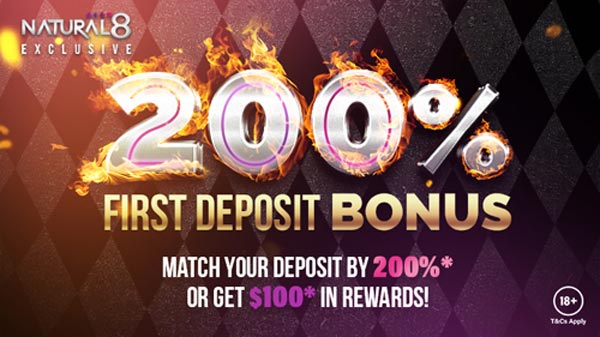 The Ultimate First Deposit Bonus
Natural 8: first deposit bonus
Natural8 offers players a choice of two types of first deposit bonuses.
A 200% bonus up to $500. (Max $1,000) This is released in $5 increments for every $20 in rake and earns you 25% rakeback. Deposit $10 or more to qualify. The wagering period is 60 days.
The second bonus is a $100 bonus based on Spin Tickets and AoF Payouts:
| Day | Bonus (Spin Gold tickets) | All-n of Fold tasks | Bonus |
| --- | --- | --- | --- |
| 1 | $9.5 | Play 100 hands | $2 |
| 2 | $5 | Play 200 hands | $4 |
| 3 | $4 | Play 300 hands | $6 |
| 4 | $5 | Play 400 hands | $8 |
| 5 | $6,5 | Play 500 hands | $10 |
| 6 | $10 | Play 1,000 hands | $15 |
*The completion of all six quests will award a $15 ticket to the GGMasters Satellite Tournament.
Bonus conditions:
Minimum deposit of $20.
Tickets are valid for 30 days.
Any withdrawal will void the bonus.
Instant $8 Bonus
An additional $8 is credited to your account with a deposit of $10 or more.
To receive it, you must complete the verification process by emailing [email protected].
Natural8 Honeymoon Promotion
Honeymoon is a 30-day challenge promotion for new players. The "Start Honeymoon" option is only available for the first 3 days after registration.
After its activation you will receive one mission each, which you will have one day to complete. All missions are related to the game, and rewards are given for completing them:
| Completed missions | Rewards |
| --- | --- |
| 3 | Omaholic ticket $1 |
| 5 | $2,50 |
| 7 | T$ Builder $4 ticket |
| 15 | T$12,50 |
| 20 | $20 |
| 25 | T$110 |
| 30 | $150 |
The total amount of prizes is $300. Tickets and tournament dollars (T$) are valid for one week.
Natural8 rakeback
Let's be honest: if you are a strong grid player who is good at making money on the long run, don't expect a good percentage of rakeback in Natural8, because thanks to the PVI ratio your rake will be returned to the room ecosystem.
Fish Buffet
Basic rakeback is given to players via the Fish Buffet programme. The poker room advertises the opportunity to receive up to 60% fixed rakeback.
The 8 tiers of FB are divided into over 20 ranks: each has its own average cashback, requirements in terms of points (FP) earned and time allocated. In 2021, Platinum Ranks were introduced with a fixed FP without the need to spin the wheel with random bonuses.
Players will receive 100 Fish Points for every $1 of rake paid.
| Rank | Refund | Average RB | FP per year |
| --- | --- | --- | --- |
| Platinum Fish | $1 per 500 FP | 20% | not required |
| Platinum Octopus | $1 per 285 FP | 35% | 750К |
| Platinum Whale | $1 per 200 FP | 50% | 1,5M |
| Platinum Shark | $1 per 182 FP | 55% | 3M |
| The Platinum | $1 per 167 FP | 60% | 5M |
There are two jackpots running for cash and PKO tournaments: the BadBeat Jackpot and the Bounty Jackpot.
The rake in Spin Gold is 7%. In MTT it is around 10%.
The network has recently worked to reduce the rake load by introducing caps in Omaha and reducing their size at part-tables, but it's still higher than the industry average.
Games and traffic
The GGNetwork has fantastic traffic sizes. It is the world leader in this metric.
Straight 8 Poker boasts more than 100,000 connections in most 24-hour periods. Most of these are in MTT and Spin and Gold. At the cash tables, an average of 6,600 connections are collected per week.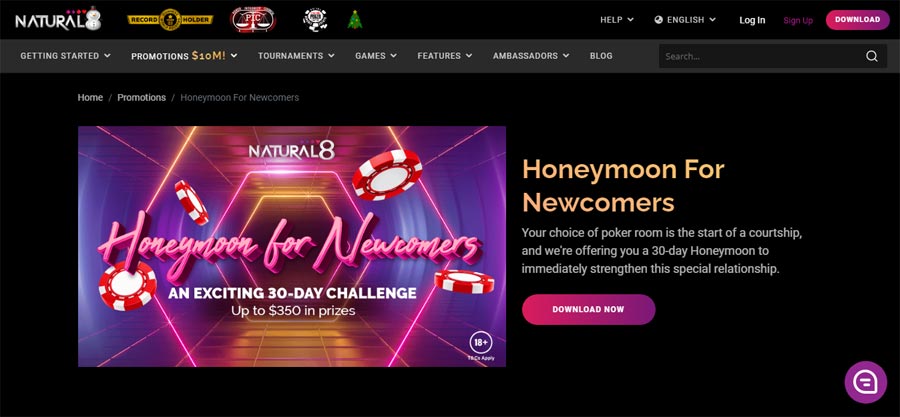 Cash games: Hold'em, Omaha, Fast Poker
Almost all of the cash tables in the room are in 6-max format, but with a wide range of disciplines. In addition to classic Hold'em and Omaha, there are All-in or Fold, 6+ Hold'em, Rush and Cash (Fast Poker) and PLO5 tabs.
On most limits the game is played around the clock. Peak traffic starts early evening (lots of Asian players) and continues until midnight when more Europeans are at the tables.
Hold'em and Omaha
Natural 8 offers action from NL/PLO2$ to NL/PLO100K$ (if you're willing to play against Victor Malinowski of course). All games are played in dollars at 6-max tables (no full ring here). VIP games with blinds from $50 have a separate tab in the lobby. The only downside to this is there is no traditional NL400 – $600 so there is only one limit between NL200 and NL1K$.
Rush and Cash
A local fast poker format. Natural8 is second only to Starz in this type of game. There is traffic in both Hold'em and Omaha up to $1/$2. At peak hours, each limit up to and including NL/PLO25$ attracts over 250-350 connections, with hundreds of connections at higher betting levels.
VIP Club Freeroll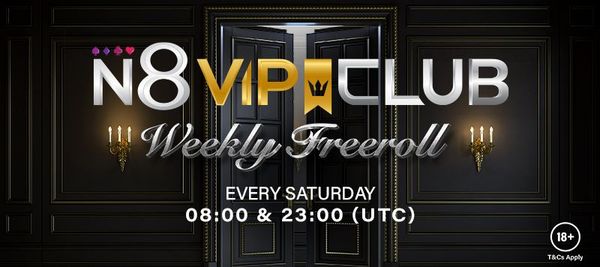 Short deck hold'em
Natural8 is one of the few poker sites with all-day action at 6+. There are a dozen tables played on limits with ante sizes from 2 to 50 cents, starting in the afternoons. Limits with a $2-$10 ante will only see up to 5 tables played in the late afternoon.
All-in or Fold
A fun push-fold format with plenty of Omaha and Hold'em limits on 4-max tables. On each limit up to NL200$ 10 to 20 tables are played almost all day. The more expensive play, apart from the amateurs, also attracts the famous PROs. WPT and EPT champion Mattias Eibinger, for example, has been seen at these tables many times.
Tournaments at Natural8
Tournament poker has been a major factor in the network's popularity. Its strategy has been to partner with the world-renowned WSOP, WPT or APT brands and organise large series with tens of millions of dollars in guarantees.
The regular MTT schedule includes events for all tastes: Omaholic, PKO, High Roller, Flip Go, Zodiac (with bi in yuan), major Daily GTDs, as well as two regular festivals: GGMasters and MILLION$.
WSOP
In 2020, GGNetwork has joined forces with the World Series of Poker to run several WSOP-branded festivals. Several dozen bracelets and rings have already been awarded. The same year saw the first ever hybrid offline Main Event, which was won in Las Vegas by Argentina's Damian Salas.
The WSOP Online 2020 Main Event made it into the Guinness Book of World Records as the tournament with the largest prize pool of $27,559,500.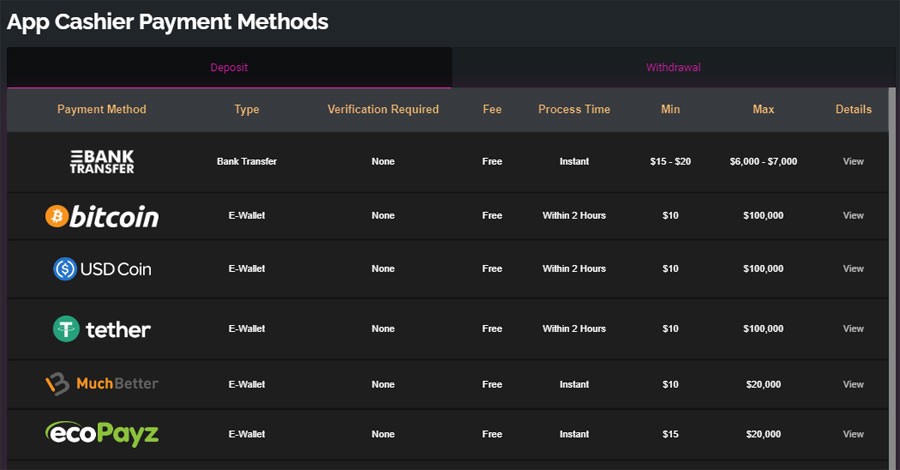 Spin Gold
Local Spin Gold was launched in 2020 and has a lot of differences from other local tournaments:
Buy-in insurance on a x2 multiplier hit.
Dependence of stack size, blinds and timeslot growth rate on multiplier.
Jackpot multipliers, giving top winnings of millions of dollars on 4 limits.
In addition to the 3-max, there are also 6-max Spins.
A special Gold Challenge, giving up to 80% cashback.
There are a total of 12 limits available from $0.25 to $200 in the lobby of the room.
Fishiness of the Field
Natural8 is the main source of Asian traffic to the GGNetwork tables. Other skins attract poker fans from Europe and Latin America.
The network works hard to preserve the poker ecology by running promotions with random prizes and banning all third-party software, so overall we can call the traffic here incredibly weak, with two major exceptions: high-stakes games and the main MTT series, which features top players from around the world.
Attitudes towards PRO players
Trackers – no.
Autoplay scripts – no.
Mining – no.
Bumhunt – no.
Preflop charts – no.
While Natural8's attitude towards regs can hardly be called loyal, it is at least extremely clear. At the end of 2020, the network unveiled its policy and divided this group of poker players into good, regular and bad.

Win a share of $120,000,000 in Tournament Guarantees Monthly
In general, if you follow the basic rules, you shouldn't have a problem:
All third-party software is prohibited.
All GTO tools, including preflop charts, are banned.
Bumhunt is also banned.
Poker room software
Natural8 offers a wide range of options in their software, which can appeal to different types of players. The main lobby contains all the current promotions and exclusive events from the room. You may switch between the different game lobbies via the top menu buttons.
The current balance (in cache, tournament dollars and tickets) is displayed in the upper right part of the client window. You can switch to settings via the gear icon in the bottom menu.
The client has several unique features:
SmartHUD and PokerCraft – built-in HUD and a service to collect all statistics per player.
Smart Betting – buying shares.
Card Squeeze – Simulates showing pocket cards, just like in a live game.
SnapCam – Recording small videos right at the table.
Tournament Staking – Betting on final table players.
EV Cashout.
Ask Fedor.
As we mentioned above, use of any third party software, including trackers, HUD, autoplay scripts etc. is not allowed on Natural8.
N8 mobile app
The Natural8 gadget client is one of the most advanced on the market and provides access to all the games and unique features of the platform. It is compatible with both Apple and Android devices.
Its main feature, which allows one-handed play, is the vertical table orientation and the choice of betting size using a special scale.
Play Poker Online Anytime, Anywhere, on Any Device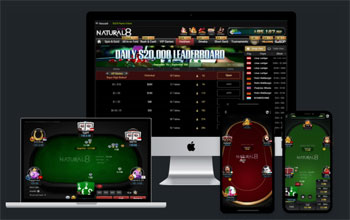 Start playing poker online now and take your games wherever you go. Never miss the action!
Reliability and security
Year founded – 2016.
License – Curacao.
RNG check – BMM testlabs.
Verification of identity – required.
Warranty from WPD – none.
RNG Natural8 is tested by BMM testlabs and licensed by Curacao, which frankly says little about their reputation because dozens of other rooms have a similar document. But we're not aware of a single case where Natural8 has been found to have failed to pay players or been strangely blocked.
Although the rules of the network impose bans on many styles of gambling behavior, they are clearly worded and do not make our players want to leave the local tables.
We have come to the conclusion that Natural8 can be trusted as a result of many years of working together with the room. It is owned by the world's largest poker network, GGNetwork.
Ambassadors
Natural8 has its own separate team of professionals from the network, which is divided into four categories. The composition of the first of these, Team Hot, confirms the room's focus on the Asian market:
Kitty Kuo (Taiwan).
Danny Tan (Hong Kong)
Michael Soyza (Malaysia)
Brian Paris (Netherlands)
Pete Yanhan Chen (Taiwan)
Tsugunari Toma (Japan)
Phachara Wongwichit (Thailand)
Tai Ha (Vietnam)
Friends of Natural8 is a team led by Brazilian poker player Laura Cintra that also includes Rebecca Rebuitti (Brazil), Daniel Almeida (Brazil), Hristo Anastasov (Bulgaria) and Dong Kim (Canada).
The site has also partnered with the European cybersporting Team NLG, which includes top poker players such as Fedor Holtz, Rainer Kempe and Stefan Sontheimer. After the WSOP Online 2020, Team Bling was created. It was made up of the winners of the series tournaments who made it by playing Natural8. Its most famous member is Daniel Dwores.
Deposit and withdrawal
All major payment systems such as Skrill, Neteller, ecoPayz, MuchBetter are available at the cash desk of the room. In Asia Natural8 accepts WeChat Pay and AliPay.
| Payment system | Deposit | Cashout |
| --- | --- | --- |
| Neteller | $10 – $5.000 | $10 – $100.000 |
| Skrill | $10 – $5.000 | $10 – $100.000 |
| ecoPayz | $10 – $5.000 | $10 – $5000 |
| Astropay | $10 – $5.000 | $20 – $1.000 |
If any of these payment methods do not suit you, you can contact our support team via live chat and they will offer other payment methods.
Cryptocurrencies (BTC, USDT) are also accepted at the Natural8 cash desk.
Transfers between players must be raked in 15% of the transfer amount before they can be withdrawn.
Account verification (KYC)
Before approving a withdrawal, Natural8 will ask you to send documents to verify your account. They will need to verify your identity and address.
This standard verification will take up to 24 hours. We recommend that you complete this step as soon as you have created your account.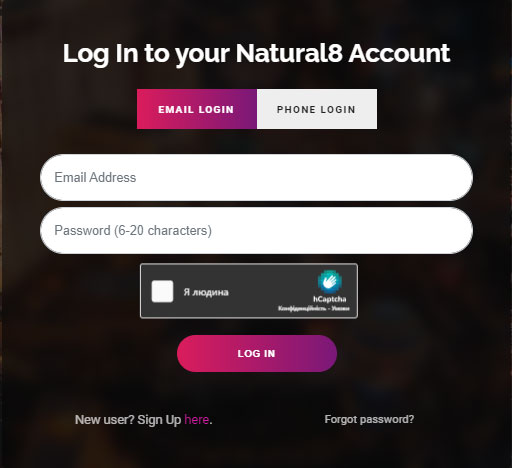 Download Natural8
Natural8 offers one of the best multiplatform poker apps. It is fully optimized for Android, iOS and desktops.
Instructions for registering and downloading Natural8 Poker
Delete the cookies or use a new browser, like Internet Explorer.
Click on the link to the official Natural8 website.
You can register your account by e-mail or phone number. At the top of the form it should say "With Worldpokerdeals".
After registering click on the button "Download app" or go to the "How to play \ Download" section of the Natural8 website. Download and install the N8 client on your device.
When you log in for the first time you will be asked for your poker room nickname.
Contacts
| | |
| --- | --- |
| Telegram | @wpd-support |
| Skype | wpd-support-skype |
| Email | [email protected] |
| WhatsApp | +905340740558 |
Pros and cons of playing Natural8
We highlight the following benefits of the room:
Soft traffic on low and medium limits.
Reliable site with partnerships with well-known brands such as WSOP.
Monthly promotions with $10,000,000 in prizes.
Extensive tournament grid and almost monthly series.
An advanced client with several exclusive options.
Access from many grey markets in Asia.
Cons:
Opaque rake allocation system.
Prohibited external HUD and other software.
Collection of rake on preflop from 3-bet banks.
High client hardware requirements.
Overall, Natural8 is suitable for all poker players. Who do we not recommend this room to? Rake machines and grinders who require HUD to play.
FAQ
Can I play Natural8 in India?
Yes. The poker room does not accept players from India and the Asian countries.
What is the minimum deposit at Natural8 Poker?
Starting at $10 from all payment systems
Is there any HUD support in Natural 8?
No. The use of third party software is strictly prohibited.
Does Natural8 support Hindi?
No. Client of the Room is translated into English, Chinese (China and Taiwan), Japanese, Thai, Spanish, Russian, Latvian, Portugal, Turkish, Estonian, German, Malay and Vietnamese. You can choose the interface language during installation or in the settings.

How do I contact the Natural 8 support team?
Through the online chat on the poker room website or on the official Facebook page.
How do I verify my account with N8 Poker?
To do this, send a scan or photo of your identity and address documents to
[email protected]